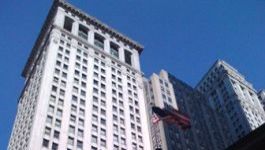 Sanofi: agreement with Principia for MS drug.
(CercleFinance.com) - Sanofi has announced an agreement with Principia for the development of PRN2246, its oral experimental drug that presents promising potential in the treatment of MS and, potentially other diseases of the central nervous system.


Under the terms of the agreement, the French pharmaceutical giant will make an upfront payment of 40 million dollars to Principia, future milestone payments that could reach 765 million, and royalties on the product's sales.

Principia has the possibility to co-finance the development of phase 3 in exchange, either by higher royalties on the product's global sales, or a profit and loss sharing agreement in the United States.



Copyright (c) 2017 CercleFinance.com. All rights reserved.