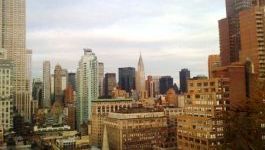 Total: OGCI to step up actions for climate
(CercleFinance.com) - At the OGCI's annual meeting today in New York, the Oil and Gas Climate Initiative (OGCI) announces its initiatives to accelerate the reduction of greenhouse gas emissions and support objectives of the Paris Agreement.


The OGCI has launched a new project to support large-scale investments in CO2 capture, storage and recovery (CCUS), an indispensable lever for achieving "zero net emissions".

The OGCI has also announced its progress towards meeting its methane intensity target set last year.

Finally, all OGCI member companies are committed to supporting policies that set an explicit or implicit value on carbon.

The OGCI includes 13 oil and gas companies: BP, Chevron, CNPC, Eni, Equinor, Exxon Mobil, Western, Pemex, Petrobras, Repsol, Saudi Aramco, Shell and Total.


Copyright (c) 2019 CercleFinance.com. All rights reserved.