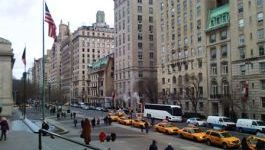 CNP Assurances: makes first green bond issue
(CercleFinance.com) - CNP Assurances has announced the successful launch of its first subordinated green bond issue, which matures in July 2050, with early redemption options from July 2030.


This inaugural 750-million-euro issue constitutes Tier 2 regulatory capital in accordance with the Solvency 2 regulation.

"It was great success and was heavily oversubscribed, with orders close to E2 billion. The fixed 2% coupon represents the lowest coupon obtained by CNP Assurances on Tier 2 capital," the group said.

The funds raised through this issue will enable CNP Assurances to finance green projects such high energy-performance buildings, sustainably managed forests, green infrastructure such as renewable energy projects and means of transport with low CO2 emissions.



Copyright (c) 2019 CercleFinance.com. All rights reserved.