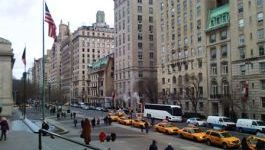 Carrefour: will unveil its new strategy on 23 January.
(CercleFinance.com) - This morning Carrefour officially confirmed that the presentation of its "transformation plan," on which the retail giant's new boss, Alexandre Bompard, and his team are working, will be delayed until early next year.


An update of Carrefour's financial agenda this morning, indicates that after the publication of FY 2017 sales, due on 17 January 2018, the new strategy will be unveiled on 23 January.

For the record, when the group announced its quarterly sales, on 18 October, Carrefour wrote that the new team, which has become quickly operational, is fully mobilised to establish the axes of transformation, which will be presented by the end of the year.

BFM said yesterday that the group wanted to avoid the possibility of an eventual strike, by presenting its plan at the end of the year, a crucial period for sales, analysts in Paris said this morning.


Copyright (c) 2017 CercleFinance.com. All rights reserved.