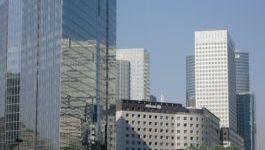 JCDecaux: partnership renewed in Australia.
(CercleFinance.com) - JCDecaux: partnership renewed in Australia.


After trading on Thursday JCDecaux announced that its Australian subsidiary, JCDecaux Australia, has renewed a tender after its partnership agreement on outdoor advertising with Telstra, the leading telecommunications group in Australia.

Taking place over a period of 15 years, the new contract covers 1,800 telephone boxes that are equipped with digital advertising screens that the global leader in outdoor advertising will install in the country's five largest cities (Sydney, Melbourne, Brisbane, Adelaide and Perth) over the next two years.

These state-of-the-art telephone cabins art will provide both the possibility to call and have wifi access to Telstra Air, and real-time information on public transport, the possibility to complete surveys, a photobooth, USB ports, interactive digital art and multilingual services that are also accessible by disabled people.



Copyright (c) 2017 CercleFinance.com. All rights reserved.