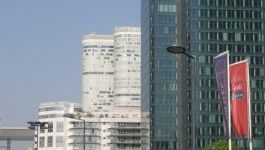 Nexans: presents its new strategic plan
(CercleFinance.com) - On Wednesday Nexans presented its new strategic plan for 2018/2022, entitled "Paced For Growth".


This plan follows on from "Nexans in Motion," which covered the period 2015/2017 and achieved the results it targeted; i.e. a doubling of Return on Capital Employed (ROCE), from 5.5% to over 11% - despite the crises in oil & gas sector and South America over the period.

By 2022, the industrial cable manufacturer's aims to increase its revenues by 25%, based on its current consolidation scope, while increasing its Ebitda by approximately 50% to roughly 600 million euros, in addition to delivering ROCE of over 15%.

This should enable Nexans to seize external growth opportunities meaning additional revenues of 1.5 billion to 2 billion euros, while maintaining a healthy balance sheet.


Copyright (c) 2017 CercleFinance.com. All rights reserved.