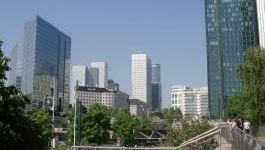 Air France-KLM: XL Airways in big financial difficulty
(CercleFinance.com) - After Aigle Azur, is it XL Airways next? This other French airline has announced the suspension of its ticket sales from 19 September, declaring itself in great financial difficulty.


XL Airways says that flights over the weekend are still on. Some flights are likely to be canceled from 23 September, and that passengers are requested to check the status of their flights - particularly passengers making a return flight after this date.

Competition from big names in the "low cost" segment (Ryanair, easyJet) and the increase in fuel costs are weighing heavily on sector players.

Meanwhile, Aigle Azur, which is in big financial difficulty, is in receivership and has suspended its flights since 7 September. Air France-KLM and easyJet initially expressed interest for a takeover, according to the press, although it appears that they are no longer interested.


Copyright (c) 2019 CercleFinance.com. All rights reserved.