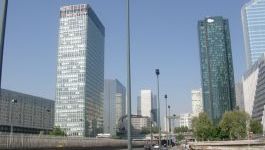 Nokia: 5G technology deal with South Africa's Vodacom.
(CercleFinance.com) - On Tuesday Finnish telecoms gear maker Nokia said that it has signed a memorandum of understanding with South Africa's Vodacom to accelerate the launch of 5G.


The company plans to collaborate with Vodacom in a series of workshops and trials, to drive digitalisation to industries such as mining, healthcare, media, energy and transportation.

Initially, both companies will focus on the delivery of ultra-HD and virtual reality video services.

Vodacom aims to be the first operator to launch 5G in South Africa and to drive digitalisation.


Copyright (c) 2017 CercleFinance.com. All rights reserved.