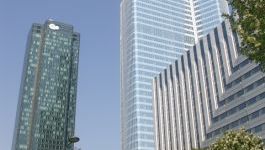 Nokia: shares slump after warning.
(CercleFinance.com) - Shares in Finnish telecoms equipment group Nokia are down on Thursday after the company warned investors of a decline in its main networks market in 2018.


The firm - which is currently facing challenges in its mobile business - estimates the decline to be between 2% and 5%, as a result of robust competition in China and operator consolidation in several countries.

In the third quarter, Nokia's network sales fell 9% from a year ago to 4.8 billion euros.

However, Nokia's net cash and other liquid assets collapsed 51% to just 2.7 billion euros in the past quarter, from 5.5 billion euros one year earlier.

The warning has overshadowed other good news in the group's quarterly report, such as the sound performance of Nokia Technologies, its patent licensing business, or the rise of the annual dividend.

Nokia plans to propose a dividend of 0.19 euro per share for 2017, up from 0.17 euro for 2016.

This morning Nokia dropped 11.5%, wiping about 3.4 billion euros off its market capitalisation.

Copyright (c) 2017 CercleFinance.com. All rights reserved.