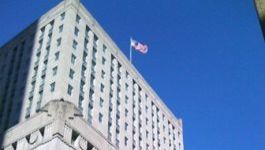 Repsol: posts highest profit in six years
(CercleFinance.com) - Spanish oil group Repsol reported its highest net income in six years on Wednesday, boosted by the recovery of crude oil and gas prices.


The company posted net income of 2.1 billion euros for 2017, 22% more than the 1.7 billion it earned in 2016.

At the same time, the company reduced its debt by 23% to below 6.3 billion euros.

Respol said its synergies and efficiency program alone generated approximately 2.4 billion euros in savings last year, largely exceeding the group's expectations.

However, the Madrid-listed shares were flat this morning after the report. As a reminder, they have risen by 10% over the last twelve months, and have jumped by 46% over the last two years.

Copyright (c) 2018 CercleFinance.com. All rights reserved.