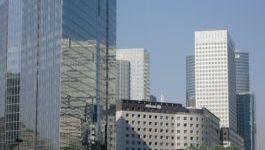 Inditex: shares down despite record first-half results
(CercleFinance.com) - Inditex, the world's largest clothing retailer, reported record levels of net sales, profits and cash for the first half, but shares fell after its outlook failed to impress investors.


The shares are currently down 1.7% at 28.1 euros in morning trading in Madrid, compared to a 0.2% rise in Spain's blue-chip index IBEX 35.

Net profit at the owner of the Zara chain hit a new high of 1.55 billion euros in the first half, up 10% year-on-year, while net sales topped 12.8 billion euros for the first time, up 7% year-on-year.

Like-for-like sales growth reached 5%.

Regarding the start of the second half, store and online sales in local currencies increased 8% between 1 August and 8 September, the company said.

Inditex said that it expects like-for-like sales growth of 4%-6% for full-year 2019.

Copyright (c) 2019 CercleFinance.com. All rights reserved.