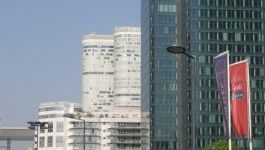 Banco Santander: changes in board and impairment charge.
(CercleFinance.com) - On Wednesday Banco Santander's board of directors approved changes to its composition and agreed to book an impairment charge of approximately 600 million euros.


From this amount, 500 million euros result from the review of the Spanish bank's investment in Santander Consumer USA, which has been driven by a reduction in the company's earnings relative to previous years.

The board also agreed to appoint BNP Paribas' Ramiro Mato as an independent director.

Matias Rodríguez Inciarte and Isabel Tocino will leave the board of directors to take on new roles: Inciarte will become the chairman of Santander Universities, the bank's scholarships and academic unit, while Isabel Tocino is set to become vice chairman of the board of Santander Spain and chairman of Banco Pastor, a new unit.


Copyright (c) 2017 CercleFinance.com. All rights reserved.