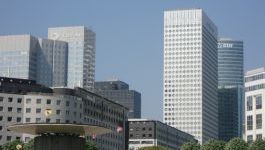 BBVA: to reduce real estate exposure through Cerberus deal.
(CercleFinance.com) - BBVA has agreed to create a joint venture with Cerberus for its real estate business in Spain, almost completely cancelling its exposure to these "non core" assets, the Spanish bank said on Wednesday.


The real estate business consists of about 78,000 real estate assets, most of which are located in Catalonia, Madrid and Valencia.

In practice, BBVA will sell an 80% stake in the joint venture to Cerberus for about 4 billion euros in a deal that is not expected to have a significant impact on the group's earnings.

BBVA says the deal marks a "milestone" in the group's strategy.

"This transaction is extremely important, because it significantly reduces our exposure to a non core business, and it allows us to strengthen our transformation process," BBVA CEO Carlos Torres Vila said.

Copyright (c) 2017 CercleFinance.com. All rights reserved.