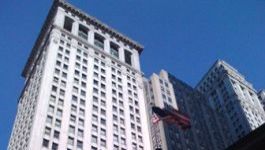 BBVA: 2.2 billion dollar offer for BBVA Chile.
(CercleFinance.com) - BBVA has received a binding offer from Canada's Scotiabank for its 68.
2% stake in BBVA Chile for about 2.2 billion dollars (about 1.8 billion euros), the Spanish bank said on Tuesday.

BBVA - which has a shareholders' agreement with the Said family, owner of a 31.6% stake in BBVA Chile - said it wants to accept the offer and has notified its partner of the decision.

The Scotiabank deal would generate a net capital gain of about 640 million euros, BBVA said.

The offer does not include the automobile financing activity of Grupo Forum, which will continue to be 100%-owned by BBVA.

Copyright (c) 2017 CercleFinance.com. All rights reserved.