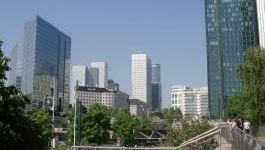 Novo Nordisk: Tresiba lowers risk of hypoglycaemia
(CercleFinance.com) - Danish drugmaker Novo Nordisk said that its drug Tresiba has been successful in reducing risk of hypoglycaemia and lowering blood sugar when compared to insulin glargine in people with type 2 diabetes.


According to new data from a head-to-head trial, Tresiba showed an overall lower risk of hypoglycaemia, also known as low blood sugar, at a significantly lower blood glucose level, compared with insulin glargine U300 in adults with type 2 diabetes.

During the total treatment period of up to 88 weeks, the rate of overall symptomatic hypoglycaemia was statistically significantly lower in favour of Tresiba.

Results from the trial were presented at the annual meeting of the European Association for the Study of Diabetes (EASD 2019), which is being held in Barcelona today.

The Novo Nordisk share is currently up 1.4% in Copenhagen.

Copyright (c) 2019 CercleFinance.com. All rights reserved.