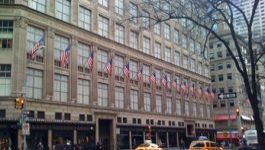 Novo Nordisk: shares fall after revenue misses target.
(CercleFinance.com) - Novo Nordisk shares are down around 2% on Wednesday after the Danish drugmaker delivered a "mixed bag of numbers" for Q3.


Analysts said third-quarter figures matched estimates in terms of EPS, but that revenues were weak, with third-quarter sales falling short of estimates.

Reported sales increased by 2% to 83.7 billion Danish kronor, representing a 3% growth in local currencies, while net profit increased by 2% to 29.9 billion Danish kronor.

However, annual sales are now expected to grow by 2-3 percent in local currencies, up from an earlier forecast of 1-3 percent.

In Copenhagen Novo shares are currently down 2% at 311.6 Danish kronor, while the European health care sector index is up 0.5%.



Copyright (c) 2017 CercleFinance.com. All rights reserved.