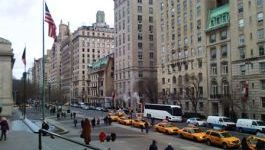 Zealand Pharma: starts Phase II trial of obesity drug
(CercleFinance.com) - German drugmaker Boehringer Ingelheim said on Tuesday that it plans to initiate the Phase 2 development of a new treatment for obesity and diabetes, which was in-licensed from Danish biotech firm Zealand.


The compound, derived from the natural gut hormone oxyntomodulin, activates receptors that are critical to controlling metabolic functions, the companies said.

Under the terms of the agreement, Boehringer Ingelheim will fund all research, development and marketing activities.

As part of the deal, Zealand is entitled to receive up to 365 million euros in milestone payments and will receive a milestone payment of 20 million euros on the start of Phase 2.

The agreement also carries high-single digit to low-double digit percentage royalties on global sales.

The Zealand Pharma stock was bubbling, up 7.5% in Copenhagen on this news.

Copyright (c) 2019 CercleFinance.com. All rights reserved.