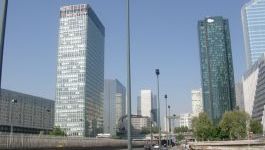 ProSiebenSat.1: shares down 10% after another warning.
(CercleFinance.com) - German broadcaster ProSiebenSat.
1 warned its 2017 revenues would be lower than expected, which has sent its shares down over 10% this morning.

The group said it increased its revenues by 3% to 883 million euros in the third quarter, despite the anticipated restrained development of the TV advertising business.

Adjusted EBITDA remained stable at 202 million euros, while adjusted net income recorded inched up 1% to 99 million euros.

"Third-quarter results were in line with expectations but the company has taken down its guidance for the fourth time this year," Liberum analysts pointed out.

ProSiebenSat.1 said it now expects FY 2017 revenues to grow by a mid-single digit percentage range, vs. at least at a high-single digit percentage previously.

Shares of ProSiebenSat.1 are currently down 9.9% at under 9.6 euros on Frankfurt's DAX index.

Copyright (c) 2017 CercleFinance.com. All rights reserved.