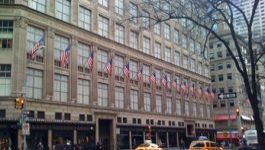 Osram: proposes an 'anniversary dividend' of 1.11 euros.
(CercleFinance.com) - Osram Licht, the German lighting group, will finally propose a dividend that is slightly higher than expected at its next AGM to celebrate its 111th anniversary.


Initially announced at 1.10 euro per share (+10%), on 6 November, the dividend for the group's fiscal year 2016/2017 (to end-September) will finally be... 111 cents (1.11 euro; +11%).

A resolution to this effect will be submitted to OSRAM's shareholders at the AGM to be held on 20 February, the group's annual report states, which the group that was founded in 1906 published this morning.

This would represent a pay-out of 107 million euros out of distributable profit of 220 million euros, representing a distribution rate of 48.5%.


Copyright (c) 2017 CercleFinance.com. All rights reserved.