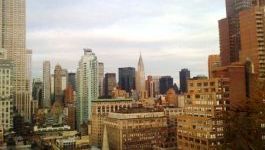 E.ON: five years of free solar power for Unity buyers
(CercleFinance.com) - E.
ON will offer five years of free solar power for buyers of the new electric car manufactured by Swedish automaker Uniti, the German energy group said on Monday.

The small Uniti One - which was unveiled in December 2017 - will be put on the market for around 15,000 euros in 2019, a purchase price that includes free solar power for five years and a mileage of up to 60,000 kilometres.

With the car's production starting in 2019, Uniti plans to manufacture 50,000 vehicles per year in the Swedish city of Landskrona. Over 1,000 orders have already been made.

It will range between 150 and 300 kilometres. It will require recharging of just 30 minutes for autonomy of around 200 kilometres.

Copyright (c) 2017 CercleFinance.com. All rights reserved.