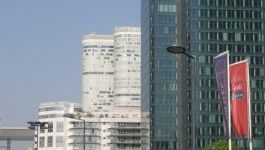 Bayer: submits new data on wet AMD drug
(CercleFinance.com) - Bayer said on Monday that it has submitted data from a Phase IV study of wet age-related macular degeneration (AMD) drug Eylea to European regulators.


The new data recommends extending the dosing interval during the first year of treatment, the German group said.

If approved, the alternative treatment option would give clinicians the opportunity to extend injection intervals to 12 weeks and beyond, it said.

The proposed label change is based on a trial, where at the end of the first year approximately 60% of patients had their next scheduled appointment at an interval of 12 weeks or more.

Copyright (c) 2018 CercleFinance.com. All rights reserved.