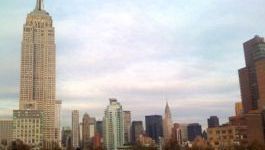 Bayer: quarterly results not welcomed by market.
(CercleFinance.com) - Investors are not convinced by Bayer's Q3 results, with the share down 3.
3% this morning, currently the sharpest faller in the Dax.

However, the German chemical giant has more than tripled its annual net profit. This reached 3.9 billion euros, compared to 1.2 billion euros for the period from June to September 2016. However, this strong growth is only due to the deconsolidation of the Covestro chemicals business (2.8 billion euros), a "boost" without which net income would have been almost flat y-o-y.

Meanwhile, Ebitda came in at 2.2 billion euros, slightly above the consensus of 2.12 billion euros, while EBIT rose by 7.6% to 1.6 billion euros, thanks to the strength of the group's pharmaceutical division.
Finally, sales grew by 1.2% to almost 8.03 billion euros.

Bayer continues to forecast annual EBITDA excluding exceptional items that is slightly higher than in 2016. Meanwhile, sales should fluctuate between 35 billion and 36 billion euros.


Copyright (c) 2017 CercleFinance.com. All rights reserved.