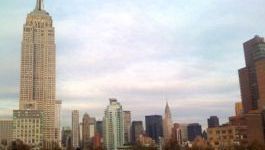 Adidas: FY targets renewed.
(CercleFinance.com) - After a convincing third quarter, this Thursday morning Adidas confirmed its targets for 2017.


In fact, the German sports equipment maker continues to forecast earnings growth of between 26% and 28%, which should therefore reach between 1.36 billion and 1.39 billion euros. Likewise, it still targets sales growth of 17% to 19% at constant currencies.

Q3 sales came in at 5.7 billion euros, up 12% excluding FX factors, compared with the same period last year. Revenues at end-September amounted to 16.16 billion euros, up 16% excluding FX factors.


Copyright (c) 2017 CercleFinance.com. All rights reserved.