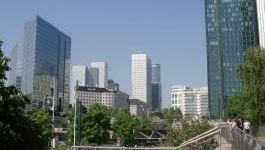 Siemens: selects Frankfurt for Healthineers IPO.
(CercleFinance.com) - Siemens has chosen Frankfurt Stock Exchange for the initial public offering (IPO) of its managed healthcare unit Siemens Healthineers, the German industrial giant said on Thursday.


"Frankfurt is one of the world's largest trading centers for securities, and its importance will continue to increase due to Brexit," Siemens said in a statement.

Siemens said the listing of Siemens Healthineers on the Prime Standard segment of the Frankfurt Stock Exchange's regulated market is planned for the first half of 2018.

Siemens Healthineers generates annual revenue of over 13 billion euros, with net income of over 2.3 billion euros, and has about 46,000 employees worldwide.

Copyright (c) 2017 CercleFinance.com. All rights reserved.