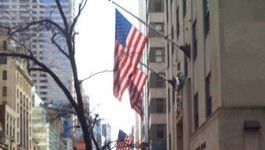 Allianz: refinancing of a portfolio in Czech Republic.
(CercleFinance.com) - Allianz has announced the refinancing of a logistics portfolio in the Czech Republic, a deal organised by Allianz Real Estate on behalf of some of the German insurance group's subsidiaries.


CTP Property NV, one of the main logistics companies in Central and Eastern Europe, is the borrower, with this transaction in line with the group's strategy of developing the network of funding partners outside the Central and Eastern Europe - in this case, with Allianz and ING Bank N.V.

The loan totals 160 million euros, of which 100 million has been subscribed by Allianz. It will be used to refinance loans that have been contracted from a group of other central and Eastern European banks and to finance new projects that were launched in 2017.


Copyright (c) 2017 CercleFinance.com. All rights reserved.