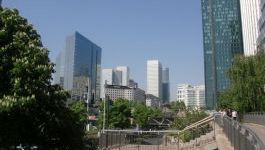 thyssenkrupp : scraps dividend, shares drop
(CercleFinance.com) - thyssenkrupp on Thursday said that it will not pay a dividend for the past fiscal year and proved to be "generally cautious" about the current financial year, sending its shares falling.


The German industrial conglomerate posted a net loss of 260 million euros for its fiscal year 2018/2019, compared to a loss of just 12 million euros in the previous year.

The loss includes provisions for risks from antitrust proceedings and restructuring expenses, the group said.

Germany's largest steelmaker said sales rose by 1% to 42 billion euros, as the positive contribution from its capital goods businesses more than offeset the fall of its materials businesses.

"The performance of many of our businesses is not satisfying," said CEO Martina Merz. "We will now tackle this," she added.

Against this backdrop, the newly formed executive board has set itself clear priorities, focusing on performance improvement, the divestment or IPO of its elevator unit, and viability of the steel division, Merz said.

The CEO also gave a "cautious" forecast for 2019/2020, expecting adjusted EBIT to be at the level last year.

Citing "weak" operating performance and its financial situation, the company will propose to its shareholders not to pay a dividend for the 2018/2019 fiscal year.

The market was by no means pleased by this, with the shares dropping more than 8% in early morning trading in Frankfurt.

Copyright (c) 2019 CercleFinance.com. All rights reserved.