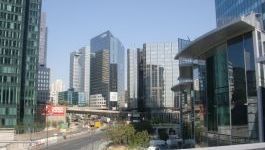 thyssenkrupp: starts new fiscal year with higher profit
(CercleFinance.com) - Germany's thyssenkrupp has made a good start to the 2017/2018 fiscal year, posting a higher quarterly operating profit on Wednesday.


In Q1 (to end-December) adjusted EBIT grew to 444 million euros, the company said, from 291 million euros in the same period a year ago.

Net profit reached 91 million euros, including a one-off negative impact of 87 million euros due to the US tax reform, from a net loss of six million euros a year earlier.

Earnings at its European steel businesses jumped, on the back of a price recovery and efficiency measures, the Essen-based industrial group said, which is in the midst of a "transformation" plan.

For the current fiscal year 2017/2018, thyssenkrupp confirmed its forecast of an increase in adjusted EBIT to between 1.8 billion euros and two billion euros, up from 1.7 billion euros in the previous fiscal year.

Shares in thyssenkrupp were down 0.6% at under 23 euros, making them the sharpest faller on Frankfurt's blue-chip DAX index, which is currently up 0.7%.



Copyright (c) 2018 CercleFinance.com. All rights reserved.