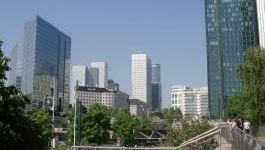 thyssenkrupp: optimistic about new fiscal year.
(CercleFinance.com) - thyssenkrupp said on Thursday that it felt "optimistic" about its new fiscal year 2017/2018 after exceeding earnings targets in the previous fiscal year 2016/2017.


The German steelmaker said this morning that it aims to achieve a "significant increase" in adjusted EBIT, to between 1.8 billion and 2 billion euros over the current fiscal year.

For the year ended 30 November, the industrial group said that adjusted EBIT of continuing operations increased at a double-digit rate, rising 15% to 1.72 billion euros.

Likewise, the company forecasts "clearly positive" net income above the level in the previous year, considering that net profit from continuing operations reached 271 million euros in 2016/2017.

In its statement, thyssenkrupp also said that order intake in the past fiscal year increased by 18% and that it had decided to maintain an unchanged dividend of 0.15 euro per share.

Its shares are currently down 1.7% on Germany's DAX index after this unsurprising report.

Copyright (c) 2017 CercleFinance.com. All rights reserved.