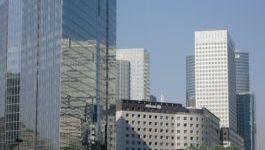 Ceconomy: stock depressed after annual results
(CercleFinance.com) - Ceconomy, Metro's former specialty retail subsidiary, recorded a slight improvement in its 2016/2017 results, a trend that accelerated at the end of the fiscal year.


As the largest shareholder of Fnac Darty, the German group is relatively cautious about 2017/2018. The stock is currently down over 4% this morning on the German Stock Exchange.

At the end of its 2016/2017 fiscal year to end-September, Ceconomy recorded sales (already known) that were up 1.3% at 22.2 billion euros, including +4.6% in Q4. FY operating income rose 6 million euros (+10 million euros excluding FX factors), to 471 million euros, and EBITDA excluding extraordinary items was up 7 million euros to 107 million euros. Q4 EBITDA increased by 14 million euros to 302 million euros, while operating profit rose by 37 million euros to 244 million euros.

Net income, group share rose by 24.3% to 189 million euros (0.58 euro per share), thanks to a lower tax rate. The group will offer a dividend of 0.26 euro.


Copyright (c) 2017 CercleFinance.com. All rights reserved.