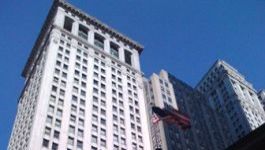 Siemens: order for a power plant in Tatarstan
(CercleFinance.com) - Siemens has announced that it has received an order from Nizhnekamskneftekhim to build a combined cycle power plant in Tatarstan, the autonomous republic of the Russian Federation, for commissioning in May 2021.


As part of a contract worth a total of 380 million euros, the German industrial conglomerate will cooperate with the Turkish group ENK to build this 495 megawatt power plant on a turnkey basis.

The contract includes the delivery of two SGT5-2000Е gas turbines, an SST-600 steam turbine, and related power distribution systems, as well as a 13-year service agreement to be signed at a later date.


Copyright (c) 2017 CercleFinance.com. All rights reserved.