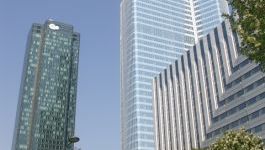 Siemens: partnership with Airbus in hybrid-electric aircraft
(CercleFinance.com) - Siemens has formed a partnership with Airbus and Rolls-Royce to soon develop a flight demonstrator in hybrid-electric propulsion for commercial aircraft.


The "E-Fan X" demonstrator is scheduled to fly in 2020, following an extensive ground-test campaign, provisionally on a British Aerospace BAe 146 commercial jet, with one of the aircraft's four gas turbine engines replaced by a two megawatt electric motor.

Provisions will be made to replace a second gas turbine with an electric motor once the system's maturity has been proven, the companies said.

Copyright (c) 2017 CercleFinance.com. All rights reserved.