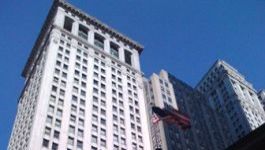 Daimler: Geely's founder takes 9.7% stake
(CercleFinance.com) - Daimler has confirmed that the founder and chairman of Chinese car maker Geely, Li Shufu, acquired 9.
7% of the company.

The owner of the Mercedes-Benz brand said that, with the entrepreneur, it has won "another long-term orientated shareholder, which is convinced by Daimler's innovation strength, the strategy and the future potential."

Daimler said it appreciates Li Shufu's "clear vision," and announced its intention to have constructive discussions about the change in the industry.

In its statement, Daimler reminded that it has already got a broad-based portfolio and footprint in China, thanks to BAIC as a partner on site.

Seeing further growth potential in the Chinese automotive market, Daimler and BAIC have announced plans to further expand local production for the Mercedes-Benz brand, investing over about 1.5 billion euros to operate another production location for high-quality premium vehicles.

Copyright (c) 2018 CercleFinance.com. All rights reserved.