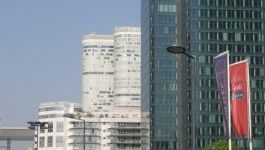 Daimler: shares up after rise in third-quarter revenues.
(CercleFinance.com) - Daimler shares were up in Frankfurt on Friday morning after the German automotive group reported its best-ever unit sales and revenue for a third quarter.


Daimler said group EBIT fell to 3.5 billion euros in the three months to end-September, down from 4 billion euros in the same period a year ago.

However, revenue rose by 6% to 40.8 billion euros, and the group said that sales of Mercedes-Benz cars have posted 55 consecutive record months and delivered 597,300 units in the third quarter, up 6%.

"Daimler posted solid commercial performance (...) on all segments despite negative FX effect", Bryan Garnier reacted.

"The group's margin was however negatively affected by exceptional charges on M-Benz business unit (...), notably due to diesel motorization," it added.

Daimler - which plans to implement a new organisational structure - said that 2017 group EBIT was expected to be "significantly higher" than in 2016.

Its shares, which have fallen 1.6% year-to-date, were up 0.9% at 69.6 euros in Frankfurt this morning.

Copyright (c) 2017 CercleFinance.com. All rights reserved.