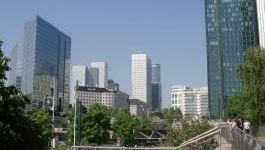 RWE: remains 'right on track' after Ebitda rises.
(CercleFinance.com) - German utility RWE said on Tuesday that it was "very satisfied" with its performance so far this year, adding that the company "has regained the power to shape itself.
"

From January to September, the energy group recorded adjusted earnings EBITDA of 4.2 billion euros, compared to 3.8 billion euros in the same period in 2016.

The firm also confirmed its outlook for 2017, saying that it expects to reach the upper end of its adjusted EBITDA guidance range of between 5.4 billion and 5.7 billion euros.

RWE said that its trading business has returned to a "good level" and that European Power is now performing "much better" in operating terms.

Amongst other good news, the group had 19.5 billion euros in net debt at the end of the past quarter, 3.3 billion euros less than at the end of 2016.

However, RWE shares were down 1.6% in late morning trading on Tuesday.

Copyright (c) 2017 CercleFinance.com. All rights reserved.