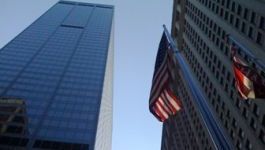 Merck KGaA: guidance fails to convince investors
(CercleFinance.com) - German drugmaker Merck said on Thursday that it has achieved its financial targets in 2017 and has announced that it will increase its dividend.
However, its share price is currently down in Frankfurt after the company forecast a decline in operating profit this year.

Merck KGaA said this morning that EBITDA fell by 3% to 4.28 billion euros in 2017, penalised by negative FX effects.

Over the last year, Merck generated net sales of 15.3 billion euros, up 2%.

For 2018, Merck said it now expected a slight decline in EBITDA "pre," while anticipating a moderate organic growth in group sales compared with 2017.

"2018 guidance points to another transition year for Merck, which was anticipated by the street," analysts at Bryan Garnier said.

However, the broker added that initial 2019 guidance "points to a turnaround." On another bright note, Merck said that it would raise its dividend by 5 cents to 1.25 euro.

However, Merck shares are currently down 2.4% at 79.2 euros this morning, while Germany's blue-chip index DAX is fairly flat.

Copyright (c) 2018 CercleFinance.com. All rights reserved.