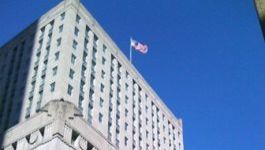 Deutsche Börse: stock up after 2017 results
(CercleFinance.com) - The Deutsche Börse stock is up 1.
8% in Frankfurt today, in demand, after the announcement of 2017 adjusted net profit that is up 6% at 857.1 million euros, or 4.59 euros per share, in line with the consensus.

The stockmarket operator's adjusted EBITDA rose by 6% to 1.43 billion euros, thanks to both a 1% reduction in its adjusted operating costs and a 3% increase in net revenues, to 2.46 billion euros (+5% in structural terms).

For its financial year 2017 Deutsche Börse will propose a dividend per share that is up 4% at 2.45 euros. For the year 2018, it expects growth of at least 5% in net structural income, with net income up at least 10%.


Copyright (c) 2018 CercleFinance.com. All rights reserved.