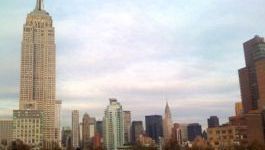 Fraport: Frankfurt October passenger numbers up 6.4%.
(CercleFinance.com) - Fraport said passenger numbers at Frankfurt airport rose 6.
4% in October, with over six million people travelling, setting a new record for the month.

"European traffic was the main driver behind this growth," the airport operator said.

The company said that cargo traffic (airfreight + airmail) slightly increased by 0.6% year-on-year.

At the group level, Fraport's international portfolio of airports also performed well in October, with Ljubljana airport seeing traffic jump 16.3% year-on-year, it added.

Last week Fraport said nine-month revenues to end-September were up 13.7% year-on-year at 2.23 billion euros.

Copyright (c) 2017 CercleFinance.com. All rights reserved.