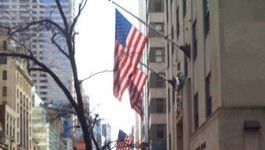 Deutsche Telekom: further raises EBITDA target.
(CercleFinance.com) - The Deutsche Telekom stock is up 1.
2% in Frankfurt this morning, after the group further raised its FY 2017adjusted EBITDA target, to 22.4 billion to 22.5 billion euros, after first increasing it to 22.3 billion euros three months ago.

Over Q3, the German telecom operator reported earnings that were up 19.6% to 1.2 billion euros and adjusted EBITDA that rose by 3.3% to just over 5.7 billion euros - while the consensus expected just under 5.6 billion euros.

Net income increased by 0.8% to nearly 18.3 billion euros, with organic growth reaching 3.3%. The group boasts positive performances - both in the US, Germany and at its other European subsidiaries.


Copyright (c) 2017 CercleFinance.com. All rights reserved.