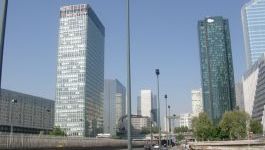 Continental: posts in-line results; confirms guidance
(CercleFinance.com) - German auto parts maker Continental on Thursday reported full-year 2017 results that were in line with estimates while confirming its guidance for 2018.


The company said it managed to increase its sales by 8.5% to 44 billion euros over the past year, with an adjusted EBIT margin of 10.9%, surpassing its full-year targets.

Continental said it expected this "profitable growth" to continue in 2018, still expecting sales to rise by just under 7% to approximately 47 billion euros before FX factors, with an adjusted EBIT margin of around 10.5%.

Citing an "ex­cel­lent fi­nan­cial po­si­tion," the group plans to increase its dividend by 25 cents to 4.50 euros, which will be its sixth consecutive increase.

The stock was up 0.5% at 221.50 euros following the report.

Copyright (c) 2018 CercleFinance.com. All rights reserved.