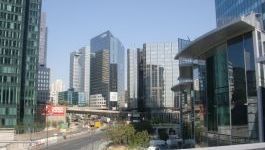 Beiersdorf: shares dive after outlook disappoints
(CercleFinance.com) - Nivea cream maker Beiersdorf said it had a "strong 2017," achieving new record sales, although it unveiled a disappointing outlook on Thursday, sending its shares down 4%.


The Hamburg-based consumer goods company said that group sales climbed 5.7% organically, reaching 7.1 billion euros in 2017, with EBIT improving slightly from 1 billion euros in 2016 to 1.1 billion euros.

Analysts at Bryan Garnier said full-year 2017 results were "slightly below expectations" and added that its 2018 margin outlook is "not that engaging".

For 2018, Beiersdorf said it expects sales growth of approximately 4% for the group, with an EBIT margin similar to its level the previous year.

Beiersdorf shares are currently down 4.8% at 85.8 euros, making them the worst performer on Germany's blue-chip DAX index.

Copyright (c) 2018 CercleFinance.com. All rights reserved.