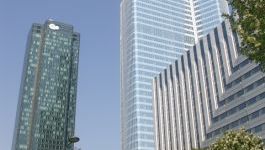 BMW: pre-tax profit exceeds 10 billion euros
(CercleFinance.com) - BMW Group has unveiled 2017 net income that is up 26% at 8.
7 billion euros, with a pre-tax margin that has improved by 0.5 point to 10.8%, enabling the group to exceed the threshold of 10 billion euros in pre-tax profit for the first time.

Up 4.8%, sales also reached a record level of 98.7 billion euros, on sales volumes that are up 4.1% at 2.46 million vehicles, including a 65.6% jump in electric vehicles sold, to over 103,000.

Based on this strong performance, BMW will offer its shareholders a dividend of four euros per ordinary share, against 3.50 euros previously. The German carmaker expects a further growth in its sales volumes this year.

Copyright (c) 2018 CercleFinance.com. All rights reserved.