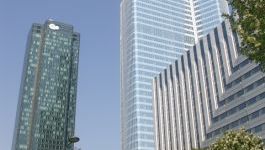 BMW: significant cut in CO2 emissions in Europe
(CercleFinance.com) - BMW Group said via a statement on Tuesday that its average CO2 emissions in Europe have been reduced to 122 grams per kilometre, against 124 grams in 2016.


Since 1995, the Bavarian car maker has also reduced its carbon emissions by 42%.

According to the group, these good results reflect the success of its eco-mobility strategy.

Last year BMW sold over 100,000 electric cars and will offer 25 carbon-free or hybrid vehicles for sale by 2025.


Copyright (c) 2018 CercleFinance.com. All rights reserved.