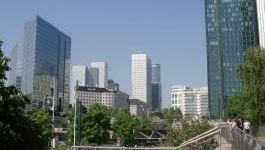 Nestlé: shares lose ground after 'disappointing' report
(CercleFinance.com) - Nestlé said organic sales growth fell short of its expectations in 2017, due to a challenging environment in North America and Brazil, although the group expects organic growth to improve in 2018.


The Swiss agri-food giant said organic growth reached 2.4% over the past year, with organic growth of 1.6% and a pricing effect of 0.8%.

However, the maker of Nescafe coffee and KitKat bars said cost reduction measures have delivered margin improvements that exceed expectations, despite an increase in raw materials prices.

The underlying trading operating margin rose by 40 basis points as reported, to 16.4% last year, putting the group on track to meet its 2020 target.

For 2018, Nestlé said it expects organic sales growth of between 2% and 4%, with an improvement in its underlying trading operating margin that is in line with its 2020 plan.

The Vevey-based giant plans to propose a dividend of 2.35 Swiss francs per share, up 5 cents, saying that it did not intend to increase its stake in L'Oréal and would not renew the agreement signed with the Bettencourt family.

Nestlé shares are currently down 2.5% at under 75.5 Swiss francs, with analysts citing a "disappointing release except for margin."



Copyright (c) 2018 CercleFinance.com. All rights reserved.