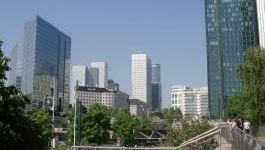 Dufry: completes refinancing of main bank facilities.
(CercleFinance.com) - Dufry said on Friday that it has completed the refinancing of its main bank credit facilities with new facilities amounting to about 3.
4 billion Swiss francs (around 2.9 billion euros).

The Swiss travel retailer said that the deal includes term loans of 1.3 billion Swiss francs, an increased revolving credit facility (RCF) of 1.5 billion Swiss francs, and a short-term facility of 600 million Swiss francs.

The structure also provides for an extended maturity profile, with the term loans and RCF expiring in 2022 compared to the old facility expiring in 2019.

Dufry's new financing structure will generate combined yearly interest savings of around 50 million Swiss francs.

Copyright (c) 2017 CercleFinance.com. All rights reserved.