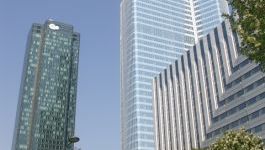 ABB: shares jump after profit exceeds estimates.
(CercleFinance.com) - Switzerland's ABB beat profit and margins forecasts in the third quarter, and said business was "trending positively," sending the shares up almost 3% in Zurich this morning.


The supplier of industrial automation and power grids said third-quarter net income rose to 571 million dollars, up from 568 million dollars in the same period a year ago.

Total orders grew by 5% to 8.15 billion dollars, while quarterly revenues were up 3% to over 8.7 billion dollars.

While the group continues to say that 2017 remains a "transition year," ABB said macroeconomic signs are trending positively in Europe and the United States, with growth expected to continue in China.

ABB shares are currently up 2.9% at 25.35 Swiss francs, against a 0.5% rise in the STOXX Europe 600 Optimised Industrial Goods & Services index.

Copyright (c) 2017 CercleFinance.com. All rights reserved.