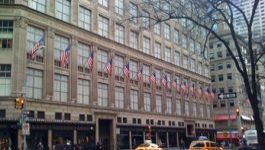 Adecco: shares fall on cautious start to year
(CercleFinance.com) - Adecco said revenue growth accelerated in fourth-quarter 2017, although the group's shares fell after the Swiss staffing group gave a fairly cautious outlook for the first quarter of 2018.


The Zurich-based company said fourth-quarter organic revenue grew 7%, ahead of the 6% it recorded over full-year 2017.

The company called its 2017 results "solid", saying that it continued to perform while making "key investments."

However, Adecco also said that revenues in January and February 2018 grew by just 5% organically, less than in both fourth-quarter and full-year 2017.

Moreover, for first-quarter 2018, it said that unfavourable bank holiday phasing will have a negative impact on its gross margin compared to 2017.

These comments prompted the Adecco share to drop 7.2% to 70.8 Swiss francs this morning.

Copyright (c) 2018 CercleFinance.com. All rights reserved.