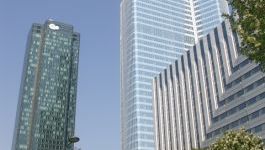 Roche: to present new data at multiple sclerosis congress
(CercleFinance.com) - Roche plans to present pivotal data for satralizumab in neuromyelitis optica spectrum disorder and six-year Ocrevus data in multiple sclerosis at an upcoming congress.


Data from the study investigating satralizumab as a subcutaneous monotherapy, compared to placebo, for the treatment of neuromyelitis optica spectrum disorder will show that the drug significantly reduces the risk of relapse.

Neuromyelitis optica spectrum disorder is a rare, lifelong and debilitating autoimmune disease of the central nervous system commonly misdiagnosed as multiple sclerosis.

At the ECTRIMS congress, to be held in Stockholm next week, the Swiss drugmaker will also present longer-term data (more than six years) on Ocrevus, showing consistent safety and efficacy outcomes for patients treated with the medicine.

Copyright (c) 2019 CercleFinance.com. All rights reserved.