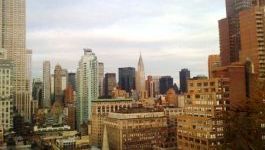 Roche: new data shows drug efficacy in multiple sclerosis.
(CercleFinance.com) - Roche said on Friday that new data showed superiority of Ocrevus compared to Merck Serono's Rebif in reducing disability progression in people with relapsing multiple sclerosis.


The data, which was presented at a meeting in Paris, showed that Ocrevus reduced the risk of progression independent of relapse activity (PIRA) by respectively 25% and 23% after 12 and 24 weeks of treatment.

A monoclonal antibody, Ocrevus has been approved in many countries across North America, South America, the Middle East, Eastern Europe, as well as in Australia and Switzerland.

Copyright (c) 2017 CercleFinance.com. All rights reserved.