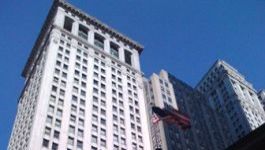 Roche: FDA accepts application for broader use of Avastin.
(CercleFinance.com) - US authorities have accepted Roche's application to broaden the use of its anticancer drug Avastin, the Swiss drugmaker said on Thursday.


The Food and Drug Administration (FDA) has accepted the company's supplemental biologics license application for Avastin in combination with chemotherapy, followed by Avastin alone, for the front-line treatment of women with advanced ovarian cancer.

First approved in the United States for advanced colorectal cancer in 2004, Avastin is now available for the treatment of non-small cell lung cancer, kidney cancer, cervical cancer and recurrent, platinum-resistant and platinum-sensitive ovarian cancer.

About 80% of ovarian cancer cases are found at an advanced stage, Roche said.

Copyright (c) 2017 CercleFinance.com. All rights reserved.