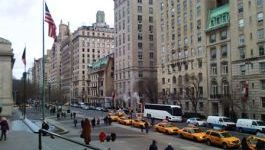 Novartis: Kisqali gets breakthrough therapy designation
(CercleFinance.com) - Novartis said on Wednesday its cancer drug Kisqali has received a second breakthrough therapy designation from the US Food and Drug Administration (FDA) for advanced breast cancer.


The "breakthrough therapy" designation is intended to accelerate the review of potential new medicines that treat serious or life-threatening conditions.

Novartis said the designation is based on positive results of a Phase III trial, which enrolled 672 premenopausal women with HR+/HER2- advanced breast cancer and demonstrating Kisqali significantly prolonged progression-free survival.

The first breakthrough therapy designation for Kisqali was granted in August 2016 in postmenopausal women with advanced breast cancer.

Copyright (c) 2018 CercleFinance.com. All rights reserved.